RUSSELL TWIN 7 MRM
Reline both sides of the mill simultaneously and increase your relining speed – safely.
Available in 2500 kg – 9000 kg capacities.
Contact an agent

The RUSSELL TWIN 7 Mill Relining Machines work together as a system to increase the speed of the relining process. Efficiency is increased because each machine may be independently used for lifting, handling and placement of liners in grinding mills. Liner placements may occur simultaneously on both sides of the mill with no interference of one machine on the other.
ADDITIONAL INFORMATION
RUSSELL TWIN Mill Relining Machines can also include the following options in addition to the standard fitting specification:

Additional tiedown plates to suit multiple mills
Radio control
Charge access ladder from beam to charge level
Removable stairs
Joystick operators console
Forward mounted traveling console
Four wheel drive, four wheel steer
Machine covers

RUSSELL TWIN MRMS are suitable for slightly smaller mills where the 8-axis is not an option
Two-sided mill relining greatly reduces shutdown duration and ensures the mill can be returned to production in the shortest possible time
RME is the world's leading Original Equipment Manufacturer (OEM) of mill relining systems.
RUSSELL MRMs engineered, manufactured and delivered.
THUNDERBOLT Recoiless Hammers sold.
Mine sites served by RME equipment & services.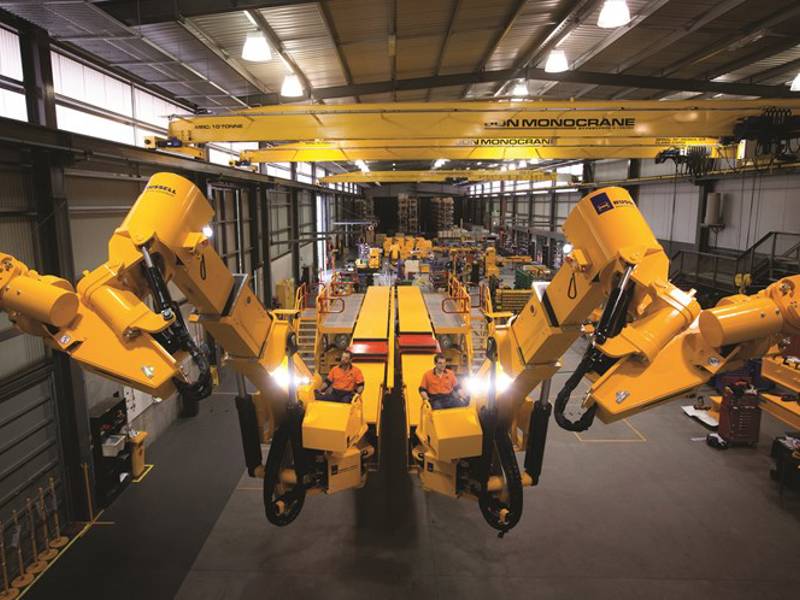 RUSSELL 7 COMPARISON
RUSSELL 7 R MRM

RUSSELL 7 S+ MRM

RUSSELL 7 S MRM

RUSSELL 3/7-E MLH/MRM

CAPACITY (KG)

4500 – 9000

4500 – 9000

2500 – 9000

1500

AXIS OF MOVEMENT (#)

7

7

7

3/7

AUTOMOTION

(Robotic Operating System)

Fully-operational

Hardware-equipped

Upgrade-ready

No

LINER VISUAL

DETECTION CAMERA

Fully-operational

Hardware-equipped

Upgrade-ready 

No

MOTOR

Dual WEG W22

Dual WEG W22

Single WEG W22

Single WEG W22

AUTOMATED PARK / DEPLOY

Fully-operational

Fully-operational

Upgrade-ready

No

GRAPPLE OPTIONS

All Reach Standard

HKS / Cylinder 

All Reach / HKS / Cylinder / Small Entry

HKS / Cylinder

TIE-DOWN SAFETY INTERLOCK

Standard

Standard

Standard

No