THUNDERBOLT MAGNUM 2000
The mighty THUNDERBOLT MAGNUM 2000 is the industry's most powerful recoilless hammer, delivering the ultimate in impact energy per blow. 
Contact an agent

The THUNDERBOLT MAGNUM 2000 is the mill relining industry's most powerful recoilless hammer, conclusively delivering the ultimate in impact energy per blow. For applications where maximum force and momentum are required, the THUNDERBOLT MAGNUM 2000 will easily expedite the toughest of knock-in phases, in the most challenging of conditions for fast, reliable, safe relines and greater mill availability.
BENEFITS
Combines sheer power and force with best-in industry equipment reliability and longevity
Tough, stuck and deeply-wedged liner bolt removal made faster, easier and safer
Reduced servicing intervals and lifecycle costs
Improved component accessibility for ease of maintenance
Optimised asset health with intelligent on-board monitoring
Unmatched operator safety with advanced new shock reduction and ergonomics
Reduced knock-in duration means faster relines and opportunities for improving concentrator profitability
ADDITIONAL INFORMATION
New operator-programmable 'MAGNUM Mode' for precision safety and more granular control
Extreme high-energy impact at 2000 joules per blow (33% increase) in MAGNUM Mode and 1500 joules in standard mode*
Consistent, electronically-controlled strike rate of 70 blows per minute (BPM) in MAGNUM Mode (16% increase) and 80 BPM (33% increase) in standard mode*
Extended service intervals at 100,000 blows (150% increase)*
Groundbreaking recoil dry fire shock reduction (90% decrease) minimises machine stress and operator fatigue*
Removable casing for easier component accessibility and superior repairability
Electronically-managed dual-action contact trigger safety mechanism eliminates risk of accidental firing 
Redesigned hydraulic systems for improved operational safety and use
Integrates with the new THUNDERBOLT MAGNUM Power Pack, which is also interchangeable between the THUNDERBOLT MAGNUM 1000 and 2000 models

*Compared to the THUNDERBOLT 1500 Special Performance Recoilless Hammer

Ideally suited to completing the toughest liner bolt removal jobs – whether it's large mills with heavyweight liners or discharge end stuck bolts – in the shortest possible time-frame
Combines maximum power with cutting-edge technology for consistently fast, reliable and safe relines
Early-stage commercial trials have demonstrated worn liner knock-in with reductions in and elimination of lancing, capturing further time savings
RME stands ready to guide Customers through the THUNDERBOLT selection process for their mill requirements
RME is the world's leading Original Equipment Manufacturer (OEM) of mill relining systems.
RUSSELL MRMs engineered, manufactured and delivered.
THUNDERBOLT Recoiless Hammers sold.
Mine sites served by RME equipment & services.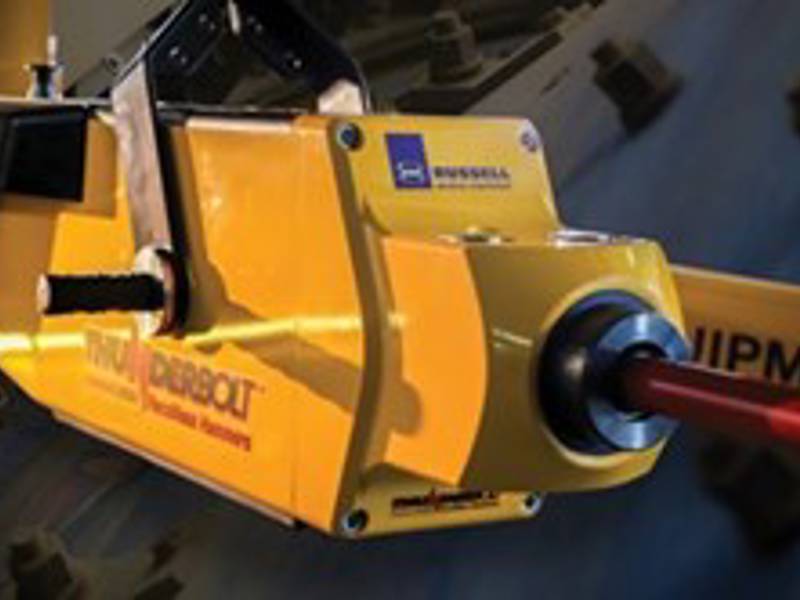 Compare THUNDERBOLT Recoilless Hammers
THUNDERBOLT MODEL

MAGNUM 2000

MAGNUM 1000

1500 SP

750 SP

500

250

POWER

Hydraulic

Hydraulic

Hydraulic

Hydraulic

Pneumatic

Pneumatic

STRIKE FORCE (J)

2000 MM

1500 SM

1000 MM

750 SM

1500

750

500

250

Service Interval 

100,000 Blows

 or 2-years

100,000 Blows

 or 2-years

40,000 Blows

or Annually

40,000 Blows

or Annually

40,000 Blows

or Annually

Annually

Strike Rate (BPM)

70 – Standard Mode

80 – MAGNUM Mode

140 – Standard Mode

160 – MAGNUM Mode

60 – Standard Mode

90 – Standard Mode

60 – Standard Mode

60 – Standard Mode