RUSSELL 3/7-E 1500 Hybrid MLH/MRM
Can be either – a 3-axis handler that evolves to a 7-axis MRM – to advance relining speed and safety.
1500 kg capacity
Contact an agent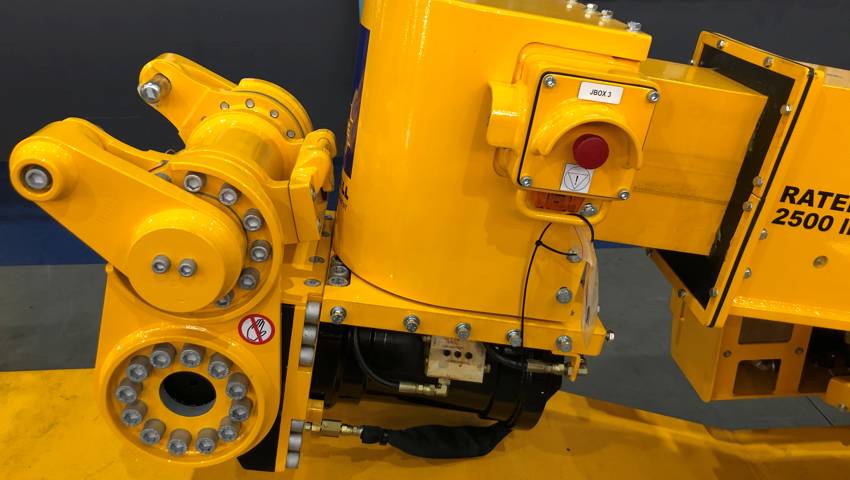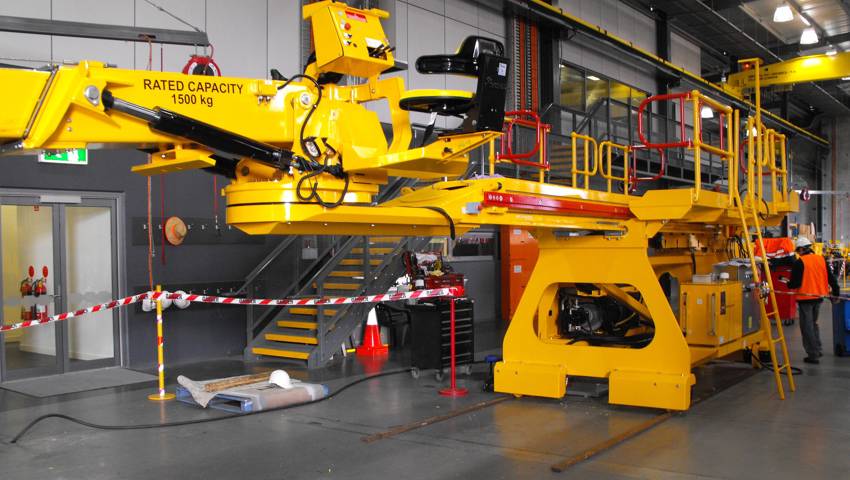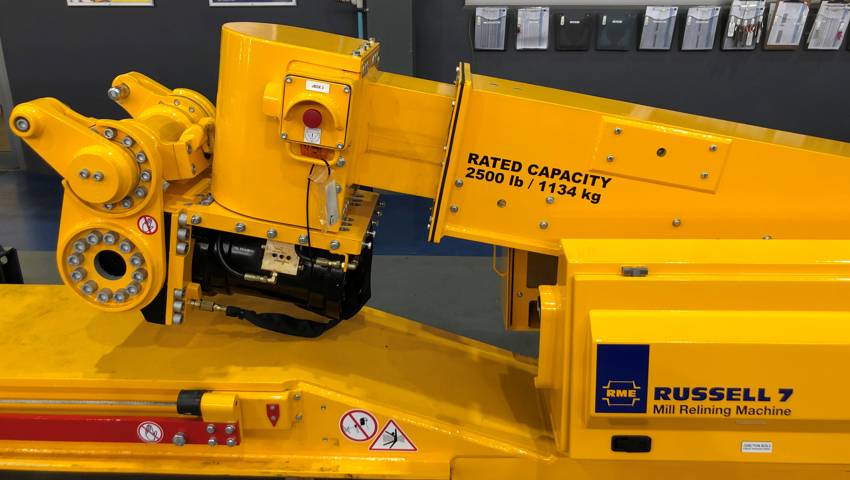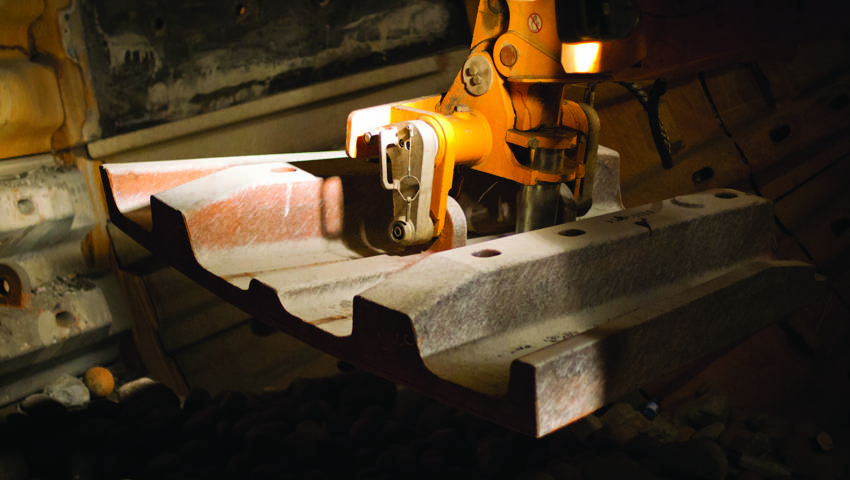 The RUSSELL 3/7 Model E 1500 Hybrid Liner Exchange Machine can be economically purchased as a RUSSELL 3-axis Mill Liner Handler with future upgradability to 7-axis liner placement functionality. It is ideal for small to medium sized mills with liners up to 1500kg and sufficient free space at one end of the mill for machine-into-mill entry access. It is ideal for operators of mills who want a safe, reliable, cost-efficient and future-proofed solution that reduces mill reline duration and is backed by RME's superior after-sales service.
Benefits
Renowned RUSSELL machine quality and after-sales service at an economical entry price and fast delivery
Future-proofed with upgradability from 3-axis liner suspension to 7-axis liner placement capability
Safety optimisation potential through upgrading from liner slinging functionality to secure, pinned liner engagement
Conveniently re-uses existing mill floor tie-down details in many circumstances.
Opportunity to optimise liner design, and use larger, fewer pieces for faster liner exchange and shorter shutdowns
Enables safe relining of smaller SAG and Ball mills through elimination of repetitive and high-risk manual lifting
ADDITIONAL INFORMATION
Telescopic boom and liner rigging hook, supported by slewing turntable, for reaching all liners in the mill in 3-axis liner suspension operation
'Sling-To-Place' Upgrade Kit replaces telescopic boom with new telescopic boom and liner placement grapple for 7-axis liner placement functionality, for reaching and precise placing of all liners in the mill
Single or two-piece beam for robust and safe support of the slewing turntable and boom
Versatile machine control options with either ergonomic operator's seating and integrated machine control or comfortable radio remote control unit for mills with tight entries
Powered liner cart providing efficient and safe transport of new and worn liners into and out of the mill
Machine travel facilitated by steerable rubber-tyred wheels or rail wheels.
On-board Hydraulic Power Pack that delivers reliable hydraulic and electrical power.
Liner lifting capacity of 1500kg

Sites who desire the commercial and functional flexibility of this upgradable machine
RUSSELL 3 1500 is suitable for applications beyond the RUSSELL 3 1000 capacity limit
Expertly-engineered for sites where there is sufficient manoeuvring space outside the mill
Typically available for mills 13ft to 28ft (4m to 8.5m) in diameter and 12ft to 30ft (3.6m to 9m) in length
Minimum clear entry diameter required is typically 3.8ft (1155mm)
RME is the world's leading Original Equipment Manufacturer (OEM) of mill relining systems.
RUSSELL MRMs engineered, manufactured and delivered.
THUNDERBOLT Recoiless Hammers sold.
Mine sites served by RME equipment & services.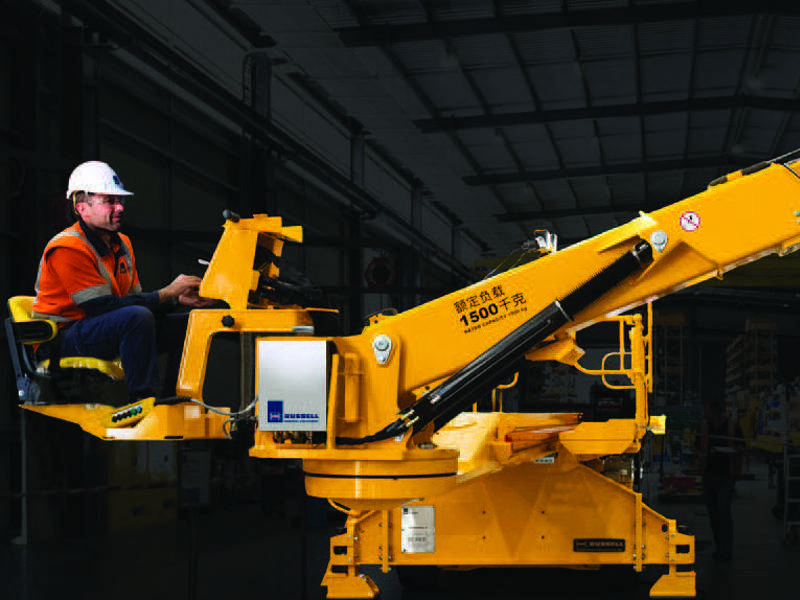 RUSSELL 7 COMPARISON
RUSSELL 7 R MRM

RUSSELL 7 S+ MRM

RUSSELL 7 S MRM

RUSSELL 3/7-E MLH/MRM

CAPACITY (KG)

4500 – 9000

4500 – 9000

2500 – 9000

1500

AXIS OF MOVEMENT (#)

7

7

7

3/7

AUTOMOTION

(Robotic Operating System)

Fully-operational

Hardware-equipped

Upgrade-ready

No

LINER VISUAL

DETECTION CAMERA

Fully-operational

Hardware-equipped

Upgrade-ready 

No

MOTOR

Dual WEG W22

Dual WEG W22

Single WEG W22

Single WEG W22

AUTOMATED PARK / DEPLOY

Fully-operational

Fully-operational

Upgrade-ready

No

GRAPPLE OPTIONS

All Reach Standard

HKS / Cylinder 

All Reach / HKS / Cylinder / Small Entry

HKS / Cylinder

TIE-DOWN SAFETY INTERLOCK

Standard

Standard

Standard

No
Our Experts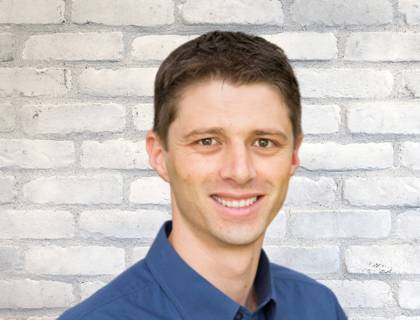 Peter Mann
Global Business Development Manager - Small Mill Solutions