THUNDERBOLT 500
The THUNDERBOLT 500 Recoilless Hammer is our top-of-the-line pneumatic liner bolt removal tool. It packs a punch and eliminates hazardous practices which impact safety.
Contact an agent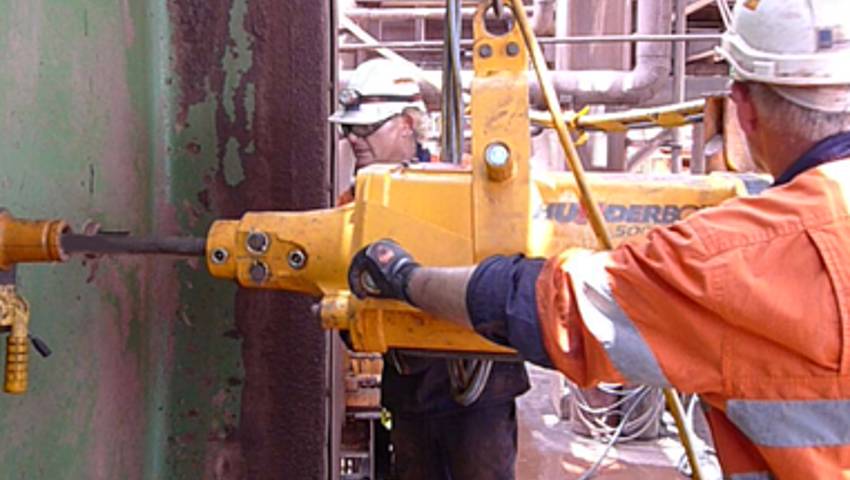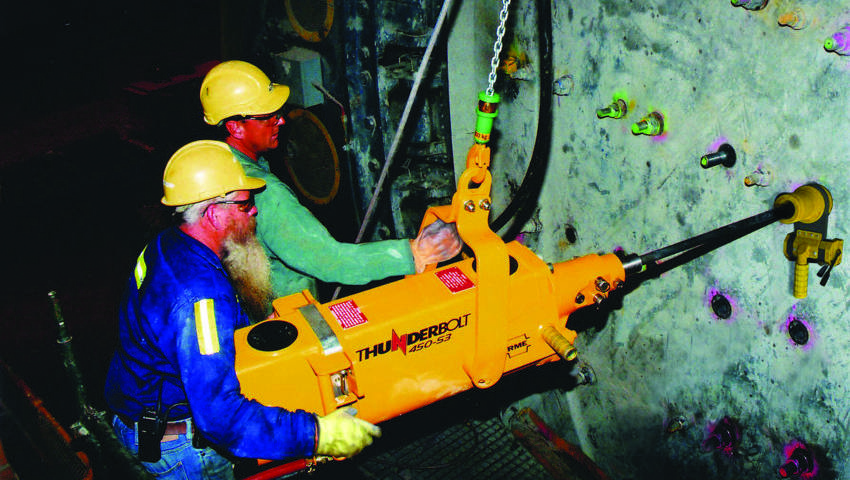 The THUNDERBOLT 500 Recoilless Hammer is the industry's top-of-the-line pneumatic liner bolt removal tool. Gone are the days of sledge hammer miss swings and glancing blows, this hammer generates a precise 500 joules every second consistently. Ideal for small and mid-capacity mills, the THUNDERBOLT 500 will straightaway boost safety and mill availability.
Benefits
Precision-engineered mechanically-integrated solution
Pneumatic-powered for safe operation in hazardous locations
Industry-leading robustness and reliability
Low maintenance needs and total lifecycle costs
Eliminates dangerous manual tasks, ensures operator safety
Improves reline productivity for higher mill availability
ADDITIONAL INFORMATION
Pneumatic-powered, plug-n-go, worn liner bolt removal solution
Delivers an unwavering 500 joules of impact, 60 times a minute
Recoilless design minimises operator fatigue and maximises safety
Built-in safety mechanisms to prevent accidental discharge
Air intensifier for optimal hammer performance irrespective of plant air pressure
On-board blow counter monitors usage for preventative maintenance planning
Time-proven precision engineering and parts manufacturing ensure low wear and tear and extended service life
Air regulator ensures optimal, predictable hammer firing performance
Crane lifting lugs and forklift tyne pockets for easy transportation around mill circuits
Mechanically-integrated components – air intensifier, hammer, hose reel, moils – for space-efficient, secure storage between relines

Ideal for small to mid-capacity mills, particularly those still serviced by manual sledge hammering and battering rams
Suitable for use in environments where electrical tools are a potential hazard
A flexible companion to hydraulic-powered THUNDERBOLT 750 and 1500 SP Recoilless Hammer fleets
RME stands ready to guide Customers through the THUNDERBOLT selection process for their mill requirements
RME is the world's leading Original Equipment Manufacturer (OEM) of mill relining systems.
RUSSELL MRMs engineered, manufactured and delivered.
THUNDERBOLT Recoiless Hammers sold.
Mine sites served by RME equipment & services.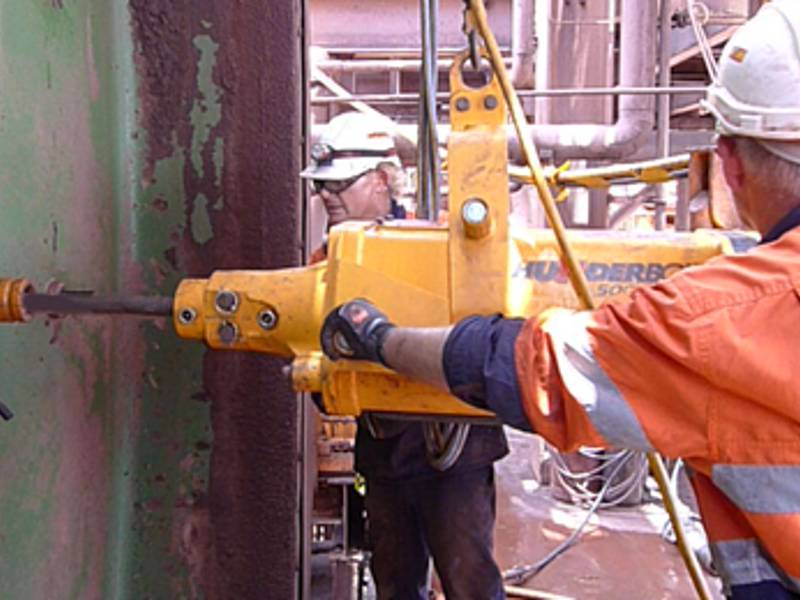 Compare THUNDERBOLT Recoilless Hammers
THUNDERBOLT MODEL

MAGNUM 2000

MAGNUM 1000

1500 SP

750 SP

500

250

POWER

Hydraulic

Hydraulic

Hydraulic

Hydraulic

Pneumatic

Pneumatic

STRIKE FORCE (J)

2000 MM

1500 SM

1000 MM

750 SM

1500

750

500

250

Service Interval 

100,000 Blows

 or 2-years

100,000 Blows

 or 2-years

40,000 Blows

or Annually

40,000 Blows

or Annually

40,000 Blows

or Annually

Annually

Strike Rate (BPM)

70 – Standard Mode

80 – MAGNUM Mode

140 – Standard Mode

160 – MAGNUM Mode

60 – Standard Mode

90 – Standard Mode

60 – Standard Mode

60 – Standard Mode