THUNDERBOLT 750 SP
A field favourite, the THUNDERBOLT 750 Special Performance Recoilless Hammer is highly regarded for its versatility, work-rate, responsive handling and RME reliability.
Contact an agent

A firm field favourite, the THUNDERBOLT 750 Special Performance (SP) Recoilless Hammer is proven to expedite worn-liner bolt removal and improve operator safety. Highly-regarded for its versatility and reliability, this high-momentum hammer delivers a precise 750 joule strike 90 times per minute, and because of this, is a sought after solution for mills large, medium and small.
Benefits
Accelerated knock-in work-rate compared to 1500
Best-in-industry quality, reliability and longevity
Superior maintainability and lower lifecycle costs
Reduced operator stress and fatigue
Eliminates dangerous practices, improves reline safety
Higher mill availability and mine site profitability
ADDITIONAL INFORMATION
Delivers an unyielding 750 joules of impact 90 times a minute
Expertly-engineered to ensure minimal recoil to the operator when firing
Safety observer pendant to prevent accidental firing
Two-handed trigger mechanism for safer handling and operation
Electronic operator interface for observing hammer performance and controlling fire timing
'Onboard' - Condition monitoring in hydraulic unit on usage and unexpected operation avoids unplanned stoppages and aids preventative maintenance
Accommodates any site-specific standard three-phase power supply
Upgraded hydraulic and electrical cooling systems for extended equipment life
Intuitive, integrated on-board hammer controls for the THUNDERBOLT Mobile Jib and Winch

Industry-proven performance across a wide range of mill sizes – small, medium and large
Suitable for Customers wishing to bolster their existing THUNDERBOLT 750 SP and THUNDERBOLT 1500 SP fleets for streamlined servicing and parts management
Safe and powerful replacement for manual sledge hammers, battering rams and unfit-for-purpose tools
Buy backs, trade-ins and reconditioned solutions available
RME stands ready to guide Customers through the THUNDERBOLT selection process for their mill requirements
RME is the world's leading Original Equipment Manufacturer (OEM) of mill relining systems.
RUSSELL MRMs engineered, manufactured and delivered.
THUNDERBOLT Recoiless Hammers sold.
Mine sites served by RME equipment & services.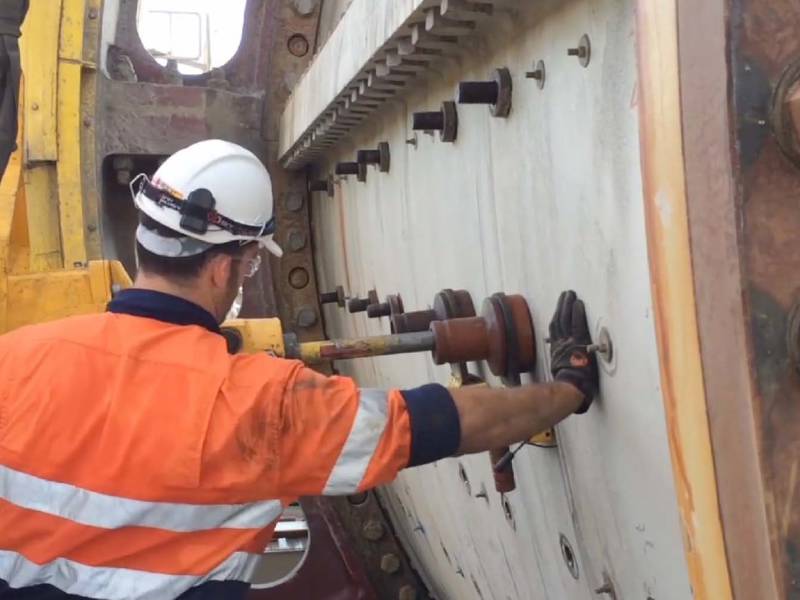 Compare THUNDERBOLT Recoilless Hammers
THUNDERBOLT MODEL

MAGNUM 2000

MAGNUM 1000

1500 SP

750 SP

500

250

POWER

Hydraulic

Hydraulic

Hydraulic

Hydraulic

Pneumatic

Pneumatic

STRIKE FORCE (J)

2000 MM

1500 SM

1000 MM

750 SM

1500

750

500

250

Service Interval 

100,000 Blows

 or 2-years

100,000 Blows

 or 2-years

40,000 Blows

or Annually

40,000 Blows

or Annually

40,000 Blows

or Annually

Annually

Strike Rate (BPM)

70 – Standard Mode

80 – MAGNUM Mode

140 – Standard Mode

160 – MAGNUM Mode

60 – Standard Mode

90 – Standard Mode

60 – Standard Mode

60 – Standard Mode